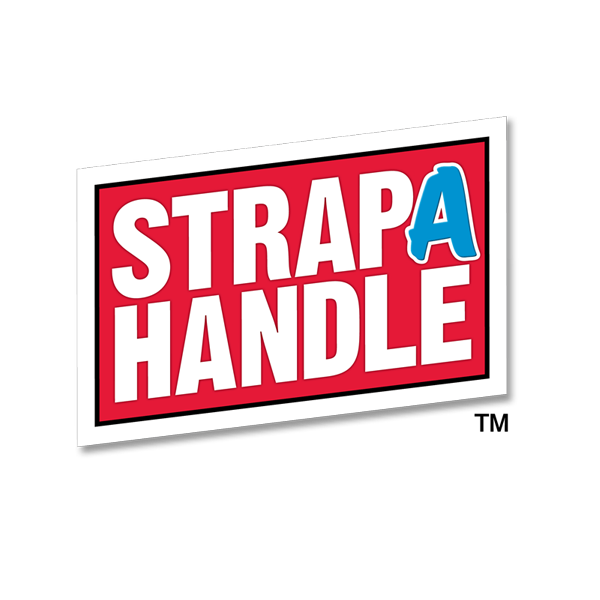 These adjustable nylon straps feature either a metal or plastic connector and help make carrying things easier and safer. Depending on what you are carrying, you should purchase the line of HDV (tools and heavy items) or Standard (shopping and boxes).
We developed our straps to support what we, everyday people, would find useful. That means, when we go to a tradeshow, we use our HDV XL Straps to help us carry in multiple boxes and cases to avoid paying big drayage fees. We use our Standard plastic Strap-a-handles to help us carry toilet paper, paper towels, even dog food from big box stores to our car and into our homes. Some of us live in apartments and find using a strap-a-handle the best way to carry through doors, in elevators and upstairs without having to take multiple trips or constantly balancing items on knees or walls.
Frequently asked questions
WHAT IS THE STRAP-A-HANDLE?
The Strap-A-Handle is a unique heavy-duty nylon strap with a soft EVA foam handle and a snap-release clasp that can help you carry more.
IS THE STRAP-A-HANDLE EASY TO USE?
It's as easy as Strap, Snap and GO! Within seconds you can carry almost anything. Small and compact, it can be stored anywhere--in your bag, purse, toolbox or car--and ready for use. No assembly required.
HOW MUCH WILL THE STRAP-A-HANDLE SUPPORT?
The Strap-A-Handle and Strap-A-Handle XL are approved for carrying 40lbs, with a static weight of 50lbs. The HDV versions, which is ideal for heavy duty uses, can support over 85lbs.
HOW LONG IS EACH STRAP-A-HANDLE?
The Original Strap-A-Handle is 6 feet in length, while the Strap-A-Handle XL is 8 feet long. The Strap-A-Handle HDV measures 4ft in length, and the HDV XL model is 7ft long.
WHERE CAN I USE THE STRAP-A-HANDLE?
The Strap-A-Handle can be used for almost anything--traveling, sporting events, outdoors, grocery stores, wholesale clubs, moving, around the house, the beach, etc. It is so easy that it can be useful anywhere!
"HOW IS THIS A GREEN PRODUCT"?
The Strap-A-Handle is not your typical green product. It's better. You no longer have to use plastic bags, nylon string, or plastic handles. You can use it forever, utilizing the lifetime warranty, and it will save you countless hours of open home and car doors, which drives up heating and cooling charges. Also, our packaging corrugate is recycling friendly. We believe the Earth is ours to protect.
DOES THIS MAKE ITEMS SEEM LIGHTER AS WELL AS EASY?
The Strap-A-Handle is designed to make carrying things easier it does not make items lighter. With the Strap-A-Handle, you no longer have to balance on one foot at the front door searching for keys. You can also keep all of your goods to the side, allowing you to see anything in your path. Lastly, since they are batched vertically, and you lift from the top, you no longer have to bend down and strain as you lift from the bottom. Please note, that because this item is not designed to make items lighter, please do not carry anything heavier than you typically would without the Strap-A-Handle.
CAN I CUSTOMIZE A STRAPAHANDLE?
Yes, the Strap-A-Handle can be customized. Contact your local promotional company or contact us and we'll find you a rep in your area.
The Strap-A-Handle was proudly designed in the United States. We have filed appropriate Patent Paperwork in the US and in China. We take the rights of all products seriously and will vigorously defend them.
WHAT IS THE WARRANTY ON THE STRAP-A-HANDLE?
The Strap-A-Handle has a LIFETIME WARRANTY! If you have an issue with your Strap-A-Handle please mail the piece back to: Strap-A-Handle Returns 345 N Charles St., Floor 3 Baltimore, MD 21201 After inspection our returns department will replace your purchase with an equal product. You will be responsible for initial shipping charges to our offices, and we will pay for the replacement piece back to you. Please be sure to include your mailing address. Returns may take up to 30 days.